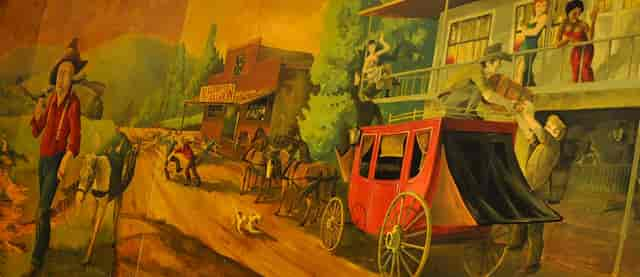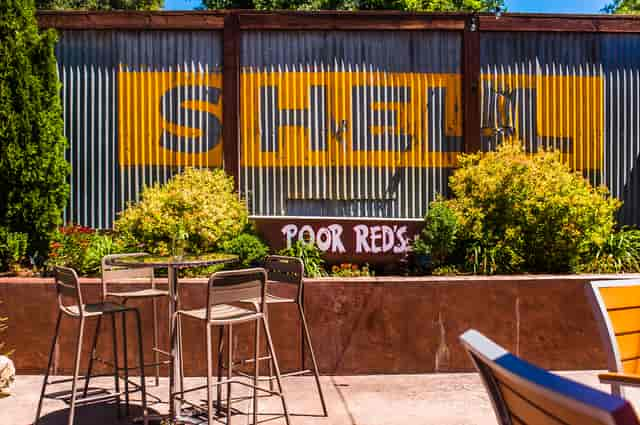 History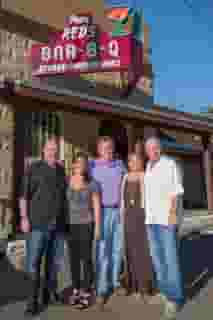 About Us
Three local residents brought the historic "Poor Red's" back to life in 2016! The Genovese Brothers, Mike and Jeff welcomed aboard Mike Hountalas, (owner of The Purple Place) to begin an adventure in renovating Poor Reds.

For almost 70 years people came from all over California to enjoy 3 things at Poor Red's, great bbq, their famous Golden Cadillac cocktail, and great company. "In 1999 Galliano proclaimed Poor Red's as the largest consumer in the world- responsible for 3% of the American Market." The three partners worked hard to negotiate the purchase of Poor Red's along with the property, the buildings, and the business name. The restaurant has been closed and was in need of desperate renovation.

Poor Red's is located in the town of El Dorado on Pleasant Valley Road at Highway 49. Originally constructed as a weigh station for Wells Fargo, it previously operated under the name Kelly's Bar from 1927 until 1945. Poor Red won the bar in a game of dice, and he and his wife and bookkeeper Rich Opal took it. The murals currently on the walls of Poor Red's were installed in the 1940's. They depict former employees and patrons, including their dog, which used to sit out front. It is rumored his dog ran for office, but he lost.

Mike Genovese, his wife Barbara of 27 years, and two kids Tommy, 23 and Nikki, 20 have lived in Sacramento since before marriage. Mike, founder of Genovese, Burford & Brothers, felt that reviving the iconic "Poor Red's" would not only be an exciting adventure, but also a great feast for the locals who have grown up with many exciting life passages at Poor Red's.
Jeff and Tamara Genovese have been married for 33 years, and have two girls, Melissa, 30, Jennifer 27 who grew up in El Dorado Hills. Jeff, the President of the Volunteer Fireman's Association and a retired volunteer firefighter for El Dorado Hills, has many great memories at "Poor Red's."

The two brothers worked as beer truck drivers to put themselves through college. They have always enjoyed the presence of a local great establishment where people can enjoy great food& drinks around local friends.

The Genovese brothers have been regulars at the Purple Place Bar and Grill in El Dorado Hills, and have seen the entire process that the Hountalas' have done to turn that iconic establishment to a fantastic family-friendly restaurant and sports bar. They will be working with Hountalas to bring Poor Red's back to life as it was in its hay day.

Growing up in the restaurant business, Mike Hountalas's family has owned the Original Cliff House in San Francisco since his boyhood. He started working as an egg cracker at seven years old, and was promoted to double egg cracker within the year! He has worked every facet of the family business, doing dishes, busing table, hosting, maintenance and serving, eventually running the 180-employee business for several years.

Hountalas' specialty is running multi-facet restaurants. As director of restaurant operations for the Kimpton Group, a national Hotel and Restaurant Management Group, he ran several restaurants in the San Francisco Bay area, as well as Salt Lake City, Denver and New Orleans, including all of the Sir Francis Drake Hotel operations. He ran such icons as, Harry Denton's Starlight Room, Scala's Bistro, Kuleto's and many more.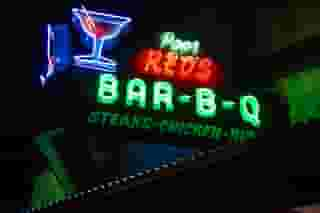 Eventually, Randy Paragary, a pioneer of the Sacramento restaurant scene, brought the Hountalas family to the area where Mike Hountalas joined the Paragary Group as director of operations, running all his restaurants including Paragary's Bar & Oven, Esquire Grill, Café Bernardo, K Bar, Centro, R15, Monkey Bar and the opening of Spataro.

With Hountalas' vast restaurant experience and the Genovese brothers' local perspective, they are excited to unite for the venture of the year!

The Partners renovated the interior structure of the historic portion of the building, keeping it intact, while heavily reconstructing the remaining portion. They gained more seats, a new kitchen, bathrooms, office, and patio area. The emphasis is to have great food specializing in Ribs, Chicken and Steak and a fun iconic bar brought back to present day's local dining and drinking expectations with the history's ambiance intact.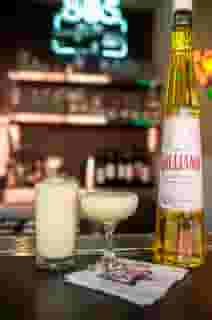 The Golden Cadillac
Poor Red's is renowned for its award-winning barbecue and for the world-famous cocktail they invented called the Golden Cadillac.

The creation of the Golden Cadillac is legendary in El Dorado. In 1952, a newly engaged couple came to Poor Red's to celebrate their engagement. They asked bartender Frank Klein to create their own special cocktail that would match their newly purchased gold-colored Cadillac. The bartender served the drink in a champagne coupe glass to signify it's celebratory nature meant for her and a sidecar glass for him. When you order one Golden Cadillac, you get two glasses.

Galliano noticed the popularity of the golden Cadillac when their Northern California sales began to increase so they ran an advertising campaign for this drink from 1964 to 1967. The drink became famous around the world. The Golden Cadillac cocktail made Poor Red's the largest consumer of Galliano Liqueur in the world.

This single restaurant bar, located in a tiny Sierra Nevada Foothill town of 1400 residents, serves more Galliano Liqueur than any restaurant chain, liqueur retailer, hotel chain, or cruise line in existence. Most bars will have a bottle sit on their shelf for years. At Poor Red's, the average life span of a 750-ml. bottle of Galliano is only an hour and a half.

The place is a destination for a Golden Cadillac experience, and it sells thousands of drinks. Since their re-opening in April 2016, Poor Red's has sold over Forty Thousand of them. Try one for yourself and see what all the fuss is about. Enjoy!